About Us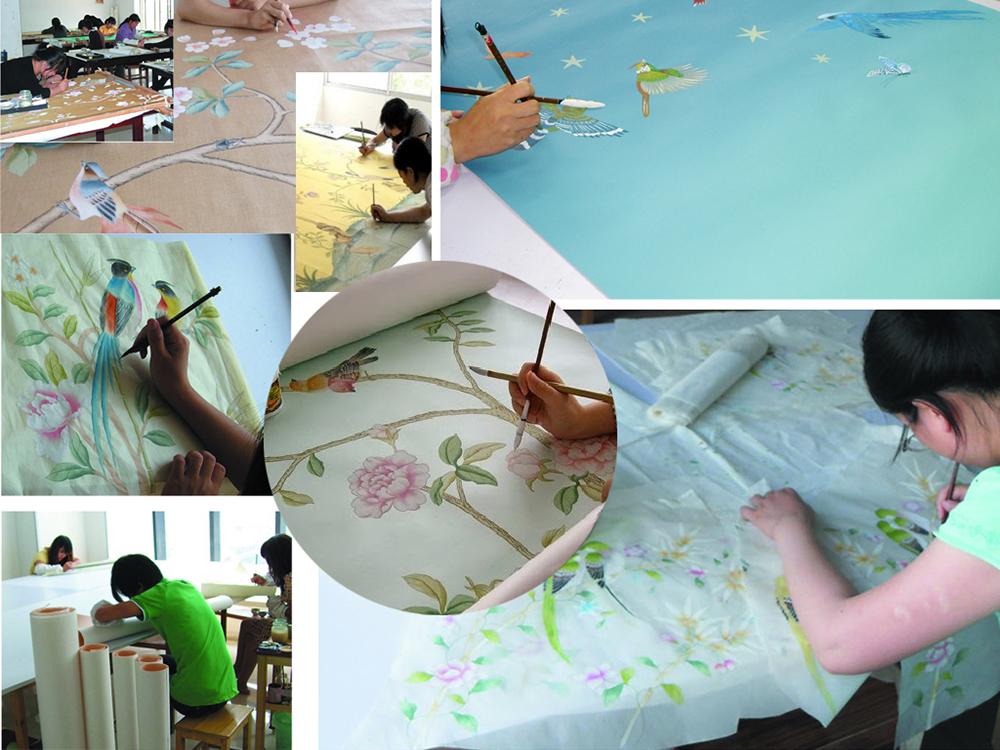 The Oriental Hand-painted Art & Design Studio was established in 2001, The leader of this studio is Mr. ZhaoXiLan, as a famous Chinese painting artist and chinoiserie wallpaper designer, graduated from The Central Academy of Fine Arts, with 35 years chinese painting experiences, collaborated with 20 apprentices and 5 master craftsmen and 3 wallpaper designer created the traditional art studio.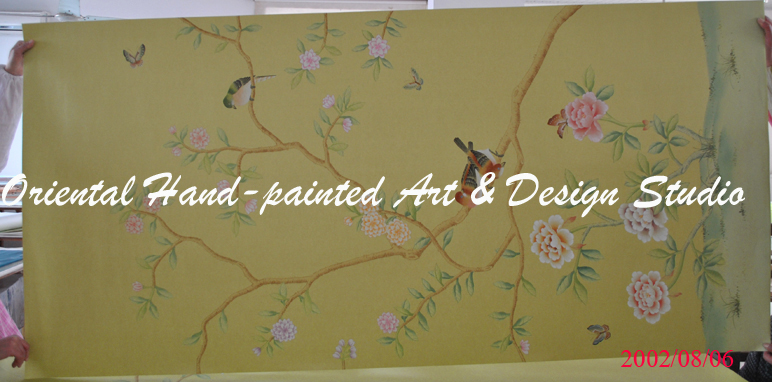 The current Oriental Hand-painted Art & Design Studio are mainly do the chinoiserie motif design, color application and wall art work production.
The traditional hand-painted wallpaper is a branch of traditional Chinese painting.While, the absolutely perfect pattern effect of hand-painted wallpaper created is one of warmth and elegance that is well suited for the most visited and cherished room of your home. Unique and non-repeating design work can extend upwards of 60 feet (sufficient for most rooms), and scale can also be extended for larger residences, boutique hotel suites or restaurants.
If you are a new traditional decor, or like the hand-painted chinoiserie wallpaper, you will be attached by the beautiful and enticed aesthetes for centuries, If you have used the hand painted silk wall coverings from Gracie or De Gurnay, most of your clients will be hesitate due to the expensive wallpaper price.
If you are looking for the popular handmade chinese wallpaper to establish your wallpaper brand or realise your interior design, you may contact us for the affordable modern Chinoiserie Wallpaper, the simplified design collection with competitive prices to meet the market demands. As our work is a tailored handmade product we need to work closely with you to create and translate your design vision. The unique and delicate designs we craft can combine strikingly with the Western design elements of your houseto create a more nuanced and textured space. The end result we hope will be a matching of Eastern refinement with Western joy of lifecreating a home design that feels decidedly modern.
Now modern design collection is launching a stunning new chinoiserie wallpaper that might give some of the most beautiful traditional designs a run chinoiserie birds and flowers patterns can be hand-painted on the lustrous silk and metallics—gold, rose gold, and silver leaves, designed in 5ft high to 8ft high motifs. Cooperation price to interior designer starting at $250 per panel, they're a surprisingly simple but with the beautiful charming of chinoiserie birds and flowers. 100% handmade Chinoiserie wallpaper with affordable price has never been so easy.
We look forward to establish long term cooperation with you on this products. Welcome OEM cooperation!
Oriental Hand-painted Art & Design Studio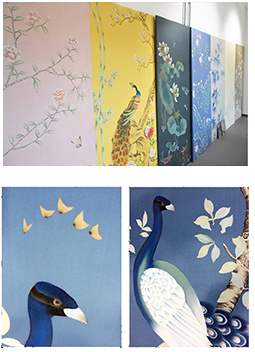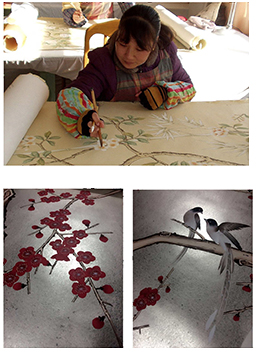 The hand-painted wallpaper & Chinese Painting

Chinese Painting refers to paintings painted on Xuan paper or silk by ink and color, it is the main form of Chinese art. From the perspective of art history, paintings dated before the Republic of China are collectively referred as ancient paintings. Without determinative name in the ancient time, Chinese painting was commonly called as Danqing, mainly refers to the paintings on silk and Xuan paper which mounted on scroll. As opposed to Western styles of art, works painted in traditional style is called as Chinese painting, meaning "national painting." It's created in accordance with the unique Chinese aesthetic trend and artistic technique.
Classification according to subject matter of Chinese painting Chinese Landscape painting, Chinese Bird-and-flower painting, Chinese Figure Painting , Classification according to the technique of Chinese painting great freehand style ,Xieyi (Freehand style), slight freehand style , Line drawing, Gongbi (Fine-brush), Fine-brush with Heavy Color , Fine-brush with Light Color , Boneless painting,.
Four treasures of calligraphy and painting:
Brush is a traditional Chinese writing instrument, made of animal hair.
Chinese ink , black pigment used for writing and painting, is made of materials including pine soot, lacquer and herbal medicine, etc.
Xuan paper ,including unprocessed, processed and half processed, suitable for conveying the artistic expression of both calligraphy and painting.
Ink stone is made of special and rare stone used for grinding ink.
Four Gentleman of Chinese Painting ,lum blossom, Orchid ,Bamboo, Chrysanthemum.
In Ming Dynasty, the xylography technology was improved. As the first book with colored illustrations, Painting Manual of the Mustard Seed Garden successfully illustrated the art of painting. First published in 1679, a total of five volumes of this manual has been used by artists and students as textbooks to learn basic painting skills till nowadays.
Beginning in the Tang dynasty (618-907 C.E.), the primary subject matter of painting was the landscape, known as shanshui (mountain-water) painting. In these landscapes, usually monochromatic and sparse, the purpose was not to reproduce exactly the appearance of nature but rather to grasp an emotion or atmosphere so as to catch the "rhythm" of nature.
In Song dynasty (960-1279) times, landscapes of more subtle expression appeared; immeasurable distances were conveyed through the use of blurred outlines, mountain contours disappearing into the mist, and impressionistic treatment of natural phenomena. Emphasis was placed on the spiritual qualities of the painting and on the ability of the artist to reveal the inner harmony of man and nature, as perceived according to Taoist and Buddhist concepts.
Beginning in the 13th century, there developed a tradition of painting simple subjects--a branch with fruit, a few flowers, or one or two horses. Narrative painting, with a wider color range and a much busier composition than the Song painting, was immensely popular at the time of the Ming dynasty (1368-1644).
During the Ming period, the first books illustrated with colored woodcuts appeared. As the techniques of color printing were perfected, illustrated manuals on the art of painting began to be published. Jieziyuan Huazhuan (Manual of the Mustard Seed Garden), a five-volume work first published in 1679, has been in use as a technical textbook for artists and students ever since.
Beginning with the New Culture Movement, Chinese artists started to adopt Western techniques. It also was during this time that oil painting was introduced to China. In the early years of the People's Republic of China, artists were encouraged to employ socialist realism. Some Soviet Union socialist realism was imported without modification, and painters were assigned subjects and expected to mass-produce paintings. This regimen was considerably relaxed in 1953, and after the Hundred Flowers Campaign of 1956-57, traditional Chinese painting experienced a significant revival.
One important event is a court painter Giuseppe Castiglione. Castiglione took the Chinese name Lang Shining, witnessing the comings and goings of three emperors in the Qing Dynasty (1644-1911) - Kangxi, Yongzheng and Qianlong. Castiglione's paintings are a successful integration of Chinese and Western styles. He succeeded in modifying European painting techniques by discarding projection and diminishing the contrast between light and shade, while retaining three-dimensional effects and perspective.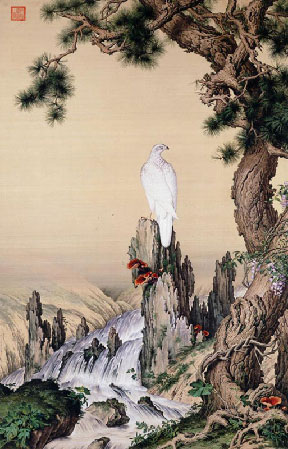 Pine, Hawk, and Lingzhi Fungus Hanging scroll, color on silk, 242.3x157.1 cm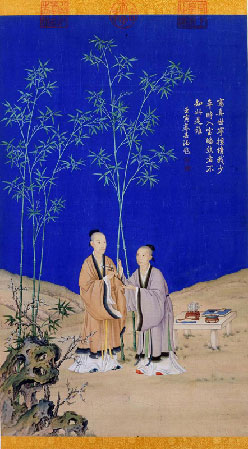 Spring Peaceful Message Hanging scroll (originally attached to wall panel), ink and color on silk, 68.8 x40.6 cm

From Qing dynasty, silk painted wallpaper was installed in the imperial palace in Beijing which combined the traditional handicrafts and western painting skills and was quickly taken up by the Europeans, obsessed with all things Chinese as the country opened up in the 18th and 19th centuries.
Along with these developments in professional art circles, there was a proliferation of peasant art depicting everyday life in the rural areas on wall murals and in open-air painting exhibitions. During the Cultural Revolution, art schools were closed, and publication of art journals and major art exhibitions ceased. Nevertheless, amateur art continued to flourish throughout this period.